Banner Installation
About Your New Banner...

The banner you have just purchased is among the best advertising and promotional values available.

Here are a few points to consider to get the most of your new banner.

Banner Installation

Grommets can be used to hang interior or wall mounted banners or provide extra tie downs on exterior banners. They should not be used as the only means of hanging an exterior banner on ropes. When the banner is tethered by the four corner grommets, the load is on the grommets rather than being distributed along the rope or webbing. A grommeted hole cannot withstand excessive wind load for long
before it rips out.

The best installation is hanging them from ropes or cables. The rope or cable is installed between appropriate fixtures and the banner is hung from the cable like a shower curtain, (plastic cable ties or steel snap hooks) with ropes providing tension on each side of the banner. The bottom corners should have a slight downward pull on them. If the bottom corners are pulled down at to steep of
an angle, they are more likely to tear out.

Cleaning: Periodic cleaning will keep your banner looking great. To clean, use a mild detergent in water. Avoid harsh cleaners or solvents that could damage the banner.

Storing: Banners should be rolled for storage. For best results, roll the banner, with the graphic out, around a 3" to 4" diameter tube. Them packed in a plastic bag, then placed in a box, so the
banner will not be crushed.

Expectations: It's been said that an outdoor banner is a sail without a ship. Be realistic with your expectations. While a banner is an excellent promotional sign, it is not a substitute for a
permanent sign.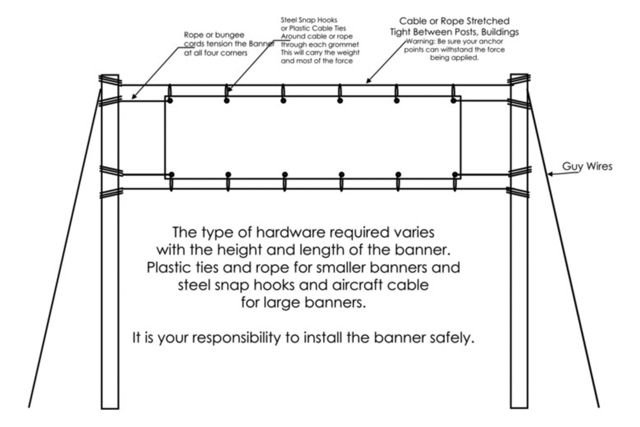 Box 1424, 210 Hawthorne Road, Atikokan, Ontario, P0T 1C0
1-800-668-3971 Tel: 807-597-6224 Mobile: 807-597-8058 E: info@dutkasigns.com